Heres the second part of my Finest break.
Still focusing on the hits of my six boxes.
Out of my six boxes (the other two went to
Martyn
and
Simon
) I only pulled on redemption, thankfully it was of a player I'd heard of!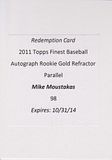 A mike Moustakas Gold refractor RC auto. TO be honest I was not thrilled in receiving a redemption (who would be?). What made me even more bummed out was the fact that Topps doesn't really look after its overseas customers so would probably refuse to send it.
But thanks to another Brit collector (Andy over on
SCR
) I was made aware that Topps would indeed fulfil redemption's regardless of where you live. So I entered the code on the site and I'm awaiting an update on the card.
Very strange that Topps would send this card overseas considering that no one outside of North America is able to participate in the Diamond anniversary promotion or bid on their Topps vaults eBay auctions. Don't you just love Topps consistency!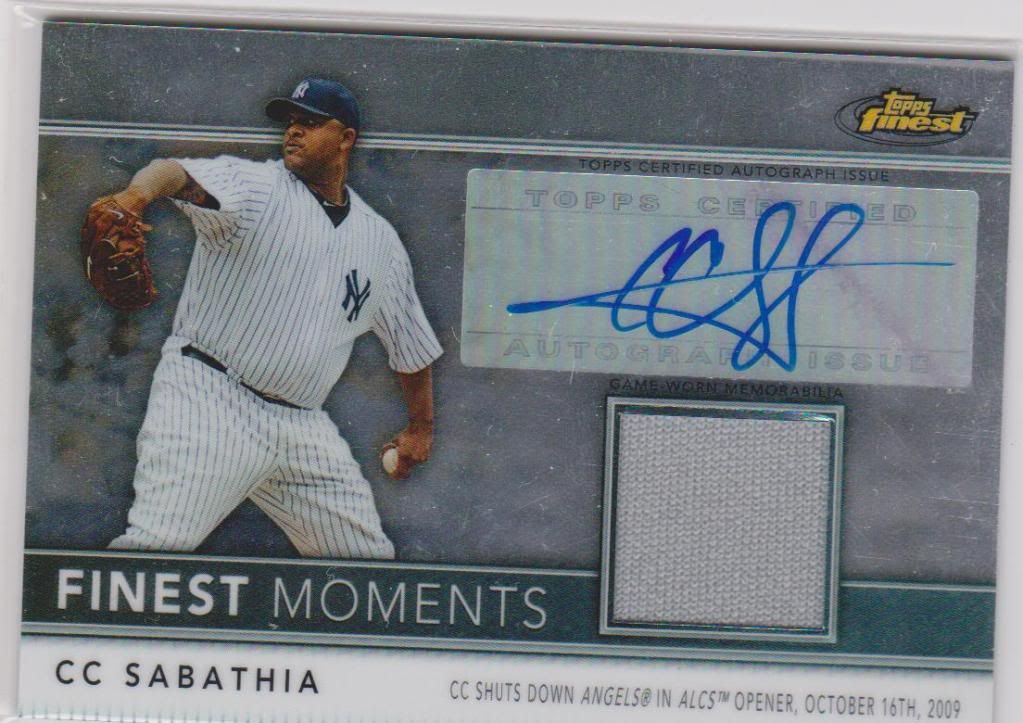 This Sabathia is the case hit. Its numbered out of a low 24 and features a plain grey swatch and sticker auto. This came out as a bonus because out of the box I'd already pulled a Belt ref auto and the above Moustakas redemption. The scan makes it look a little dirty but its all good.
Its probably one of the best autos that I've pulled and had in my possession and I debated whether or not to keep it. But like 99% of the cards I pulled from my boxes I plan to sell.
Like this one...
A Brent Morel purple auto RC /5! I was very excited to pull such a low numbered auto, just a shame I have never really heard of the bloke. I offloaded this card off eBay a day after busting my boxes and was please with the price I got.
I had a specific goal in mind when I initially ordered my case. That was to keep only PC cards ( and possibly one complete set) and sell all other cards on in order to raise the funds to get another case. I highly doubt I'll be able to get the full amount for a case from my sales but I should be able to get about half. Then comes the fun part of deciding what to get!